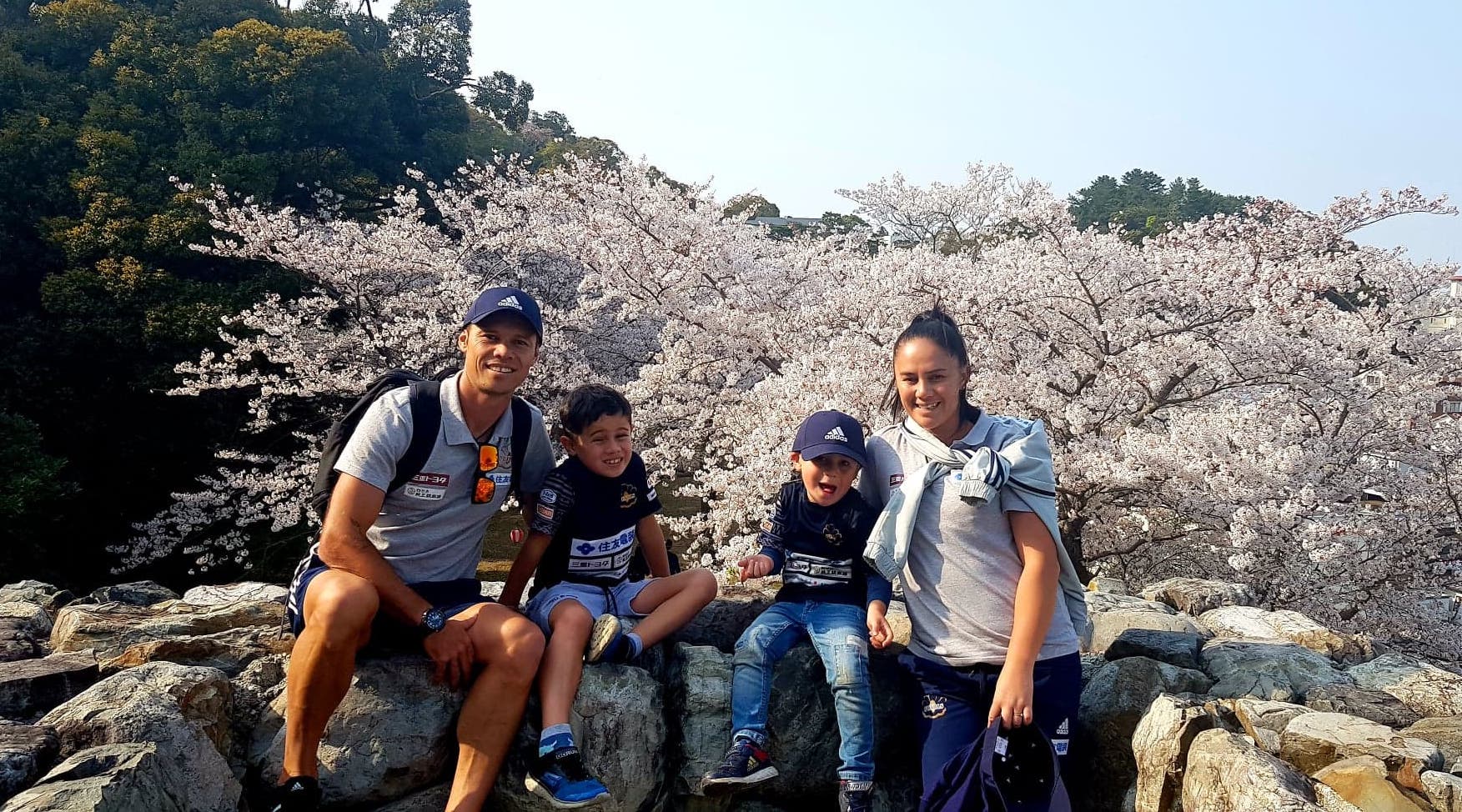 Name?

Brent Kaua




Where are you from in NZ?

Ngati Porou, East Coast.




Where are you currently living?

Yokkaichi, Mie, Japan, 5 hours south of Tokyo.




How long have you been living here?

3 years. We spend 9 months in Japan and 3 months a year in NZ.




What is your current profession, and who are you working for?

I coach rugby fulltime with my wife Crystal for Mie Pearls Womens Rugby Club – They are a semi Professional Rugby club. Our 2 boys are our mascots! We're pretty grateful to get paid for doing something we love.




Tell us what it is like where you are living?

We live in a "small" coastal town (300,000), the mountains are on our doorstep - it reminds us of home. There's no swimming beaches where we are but the mountain rivers are epic for swimming. Just watch out for snakes!




What do you do for fun / entertainment?

Heading up the mountain swimming in summer, we love eating out - Yakiniku, Sashimi, Ramen theres heaps, theme parks, Suzuka Formula 1 track is close,. Snowboarding – Hakuba Valley its powder heaven! Fishing and crabbing. I love diving and fishing at home so we try to do similar things here so our boys get the bug! Nagoya city is only 30 minutes away. There are shrines everywhere.




Beer or wine?

Used to be beer but I'm more into a good whiskey.




What is the most useless talent you have?

I can move my ears back and forward. I haven't seen anyone else do it yet




What is your favourite place in the world, and why?

Oooohhh that's too hard… For an adrenalin rush – Interlarken, Switzerland. Go canyoning its EPIC!!! Crystal and I did a safari trip from Zambia down through Botswana, Namibia and to Capetown South Africa that was Epic - scenery, parties, people, wildlife, Great White Sharks!!! also BC Canada – for snowboarding, outdoors, nightlife and great people.




What is something that people don't know about you?

Ive travelled to over 55 countries




Do you have plans on moving back to NZ?

At some stage. Our boys are young (5 and 8) but they are nearly fluent in Japanese and they still get to go to school in NZ for their final term each year so we are grateful. So home is still there. Coaching allows us to travel and our boys are just like us – keen to see what the world has to share!!!




What home comfort do you miss the most?

My boat and the smell of fresh cut grass. No one has lawns here!


What is your funniest travel story?

I was living in Ennis, Ireland and my mate was having her 21st that weekend. She asked me to do the Haka for her birthday…I said "sweet as ". Word spread like crazy. The weekend comes and I rock up to the pub, its jam packed! The que outside is huge. They had all come to see the Haka. The big screen was set up with a live camera so no one missed it!!! I will never forget it. Im pretty sure you were there Simon! Pretty cool when your one of only 2 kiwis in the town.




If there was one thing you could recommend to someone about to go on there OE, what would it be?

Book a one way ticket – that's the adventure! You only live once.