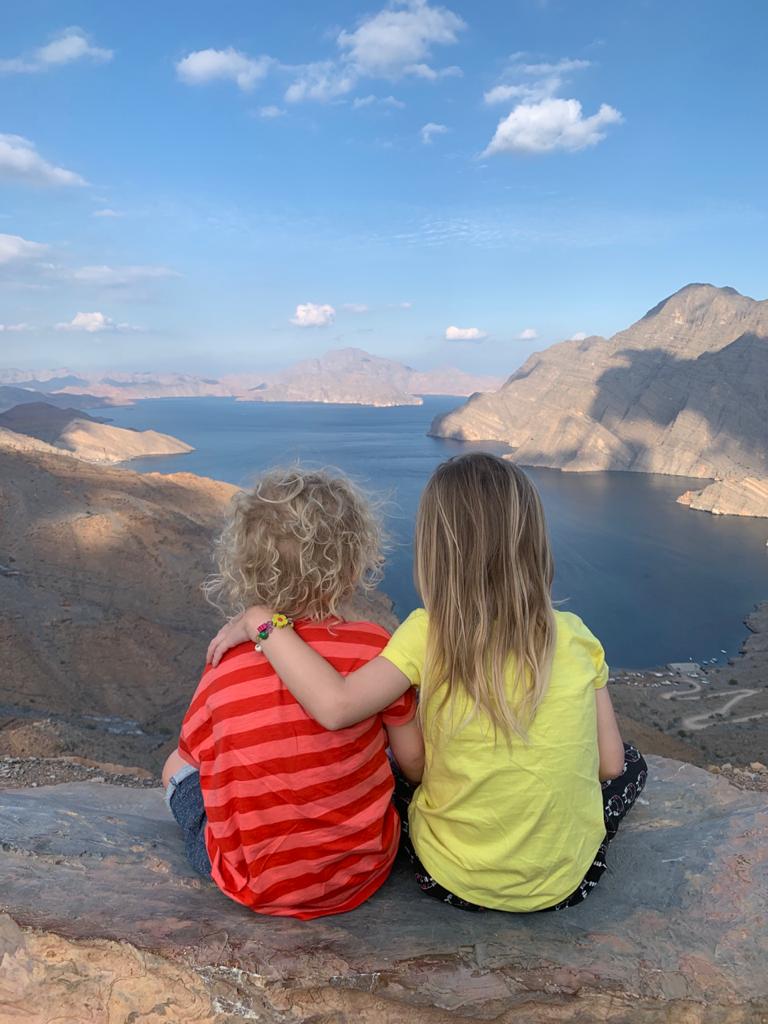 Name?
Karla Bythell-Parr

Where are you from in NZ?
The sunniest town in New Zealand – Blenheim.

Where are you currently living?
Dubai

How long have you been living here?
4 Years

What is your current profession and who are you working for?
Regional Building Manager for ITP Media Group –a digital and publishing company. We have over 20 different nationalities in the company which is pretty cool!

Tell us what it is like where you are living?
Family life is relaxed – we spend a lot of our time at the beach or the desert. We love taking the kids camping and exploring the local Wadis. Where we live backs onto the desert and a cycling track which we love. This time of the year we spend our time emerged in water – trying to escape the scorching temperatures.

What have you done for fun/entertainment throughout Covid and the lockdown?
Basically turned the kids into cheap labour, the cars, bikes and windows have never been so clean!!

Are there any particular challenges throughout this period that stand out for you?
We are nearly at the 3 month mark for working from home and homeschooling. We have all had our moments and naturally being young, our kids have had to adjust to this new way of life. We are fortunate in so many ways and I am grateful for the opportunities that this period has given us. Simple things like enjoying three meals together at the table each day and being directly involved with the kids learning have made all the small challenges easier to deal with.

Beer or wine?
Being from Marlborough if I didn't say wine I think my Dad would disown me but I do make a mean G&T!

Choice of takeaway?
Is Japanese included as takeaway? If not then Fish and chips.

Are you more of a hunter or gatherer?
Gatherer, I'd happily graze away on veggies, nuts and fruit.

What inspires you?
This is a tricky one - I think a combination of my Mum, awesome people doing awesome things and being in nature which makes me feel like anything is possible.

What is the most useless talent you have?
There was a time where I considered myself a highly talented bush diver on my way back from the pub – sadly there is a distinct lack of bushes in the desert and I don't really fancy cactus diving.

What is your favourite place in the world, and why?
For me The Marlborough Sounds is hard to beat, it is so peaceful and calming – it is just stunning and often feel like you have it all to yourself. From my travels it is hard to pick but I would say Japan, Columbia and Canada would be at the top of my list.

What is your funniest travel story?
I once tried to do my bit for the Canadian environment by picking up a stray black bin-bag in the forest, only to find when I got closer, the bin-bag was in fact a black bear cub. It wasn't immediately funny, but we laughed pretty hard once I made it back to the van!

If there was one thing you could recommend to someone about to go on there OE, what would it be?
Book a one way ticket then spend all your money on as many adventures and new experiences as possible. You can always make more money.

What is something that people don't know about you?
I would rather sit in a sauna in a boiler-suit than do a pub quiz.

Do you have plans on moving back to NZ?
Yes absolutely!

What home comforts do you miss the most?
Grass, waking up to a cold, frosty morning, family and friends.