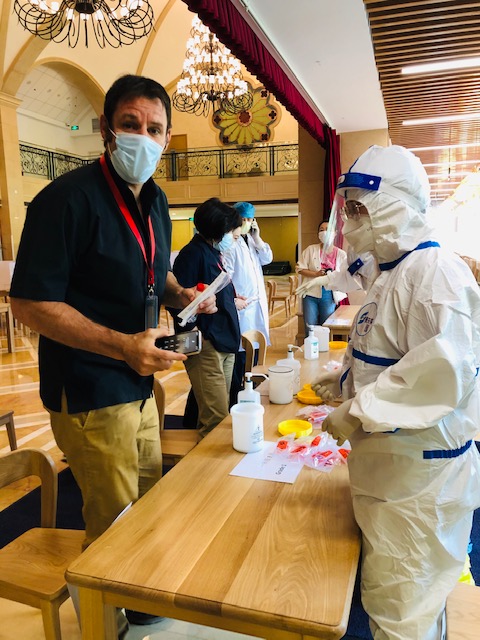 ​Name?
Nigel Barrett

Where are you from in NZ?
Brightwater, Nelson

Where are you currently living?
Beijing, China.

How long have you been living here?
We are just beginning our second year, having moved here from Uganda after previously living in Dubai, Philippines, Brunei, Kenya and England.

What is your current profession and who are you working for?
I am currently a Principal at Dehong Beijing Chinese International School.

Tell us what it is like where you are living?
Beijing was always a place we avoided with younger children due to the stories of the pollution and being a concrete jungle. We actually live in a very green suburb which is extremely quiet and friendly. English is limited but the Chinese continue having full conversations with you in Chinese, even though they know you don't understand, so they just talk louder.
We get around on electric scooters or by cycling and if further, taxis or the subway. There are supermarkets where you can get most things including peanut slabs but no Cadbury. It is actually a pretty easy place to live. Beijing has a funny mix of seeing a photo of madness every day, e.g. the guy clearing demons away from the area with his whip, the old lady cycling with her whole life and shop on the back of her bike to the neighbour with the new Rolls Royce so he puts his Aston Martin away for the winter. Downtown is a bit more loud and busy. A city of 20 plus million, there is something for everyone and quality of life for ex-pats is high.

What have you done for fun/entertainment throughout Covid and the lockdown?
One of the best things was being back in NZ during February for the first time in 20 odd years. The family and I were in the Philippines on holiday when Covid begun to become a bit more serious in China. I had a flight to NZ as my holiday dates were different and my wife and daughters were returning to Beijing. We went our separate ways but once back in Beijing the family weren't comfortable with everything being closed and no one really knowing what was happening plus shelves were becoming empty. So once sorting out the animals with temporary homes, they grabbed the last flight that allowed foreigners into NZ (lucky as the wife is French and my mate's welsh wife who tried to join him the next day was not allowed on the flight). All a bit surreal, as I was sitting watch the Crusaders play in Nelson while watching to see if they would be allowed on the flight in Beijing, as things has started changing and quickly. They got on, we had an extra 6 weeks in NZ, working online and enjoying the NZ summer mornings and evenings outside of working hours.
We returned to Beijing mid-March and were lucky that we got one of the last flights in that allowed home quarantine and also we were allowed through the airport without much extra hassle. Whereas a colleague that arrived the next day had 12 hours at the airport, quarantine centre and then it was touch and go on hotel or home for quarantine.
Quarantine was actually alright, there was a camera on the door to ensure we didn't go out but we could have anything delivered…normally by a guard in a full bio-hazard suit. We have a small garden and also a back door where no camera was attached for evening strolls! After two weeks we were taken out to a rugby sized field where two small ladies in full bio-hazard suits stood in the middle with no one else around ready to do our first Covid test. They were so short we had to be on our knees. We were quite lucky throughout, after the test, life was fairly normal. Things were open, masks to be worn and a compulsory health tracking app on the phone.

Are there any particular challenges throughout this period that stand out for you?
Being in a country where you don't understand the language and things change so quickly. Schooling online with two teenagers became a bit of a drag as it lasted about 3 months and the house felt smaller and smaller.

Beer or wine?
An ice cold beer to start and then a good red.

Choice of takeaway?
While in NZ, it has to be a really good feed of fish and chips by the beach. While abroad, Nyama Choma in Kenya with heaps of salt and a cold Tusker.

Are you more of a hunter or gatherer?
Gatherer, after all the time working on orchards around Nelson.

What inspires you?
People who 'do'.

What is the most useless talent you have?
I can open a beer bottle with a piece of A4 paper.

What is your favourite place in the world, and why?
Toughest question ever. Toss-up between the Savanah of Kenya and overlooking the Great Rift Valley, Banks of the River Nile in Uganda by Murchison Falls, Palawan and Coron in the Philippines or swimming in the rivers of Nelson.

What is your funniest travel story?
We have had some great experiences but driving yourself through safari parks in East Africa and rough camping away from tourists has given us some great experiences.
The first time camping in the Massai Mara after driving hours and hours in our old series three Landover called George on non-exsistent roads, some local guards showed us a patch where we could camp. No fences, no facilities and a good chance for the guys to make a few bucks by letting us camp. As the sun went down and the noises began of Lions coughing and Hyenas calling, I realised that my nylon tent and the campfire were the only things between me and nature. Around midnight something stampeded past being chased by something else. I figured sitting by the tree in my sleeping bag might create an easier escape route to the car if needed! It was a long night of noises but when the sun came up, to see Elephant not far away and Wildebeest grazing against the sunrise. Wow.
The stories of camping like this became endless, from Hyenas around the tent at night, to having to wait in the car at 2am as a herd of buffalo came through, to being raided by baboons for our food, who would of guessed a baboon could open a chilly bin after climbing into the back of the car and chasing my mate out of it and being chased by Rhino. All great memories with a few close calls

If there was one thing you could recommend to someone about to go on there OE, what would it be?
Go! While you are abroad get involved as much as possible with locals, don't think you need to stick with people from your own country all of the time. There is more to London than the Walkabout. Of course it is nice to reminisce but make some mates from other countries and experience the real side of that country. From a trip to Wales with a Welshman to playing rugby with Kenyans to going diving with Filipino friends. Make the connections and you will be welcomed back and hopefully one day get to host people in your own country too. And spend your money on travel and experiences, you can't beat great memories.

What is something that people don't know about you?
Born on a black Friday…luck for some.

Do you have plans on moving back to NZ?
Yes for sure. I have enjoyed living around the world but you can't beat NZ. After this contract we hope to come back and set up a couple of companies with one bringing business to the local community in Nelson and Golden Bay and the other helping teachers who want to go abroad find opportunities and make the right decisions when choosing a job.

What home comfort do you miss the most?
Watties tomato sauce with fresh fish and chips by the beach, NZ fresh air and rivers to swim in and the fresh local fruit during the summer.