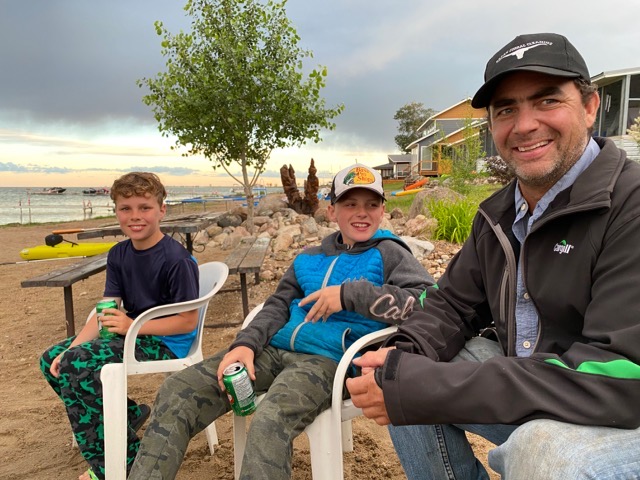 Name?
Craig Evan Kinder.

Where are you from in NZ?
Marlborough. I was born in the Sounds.

Where are you currently living?
Davidson, Saskatchewan Canada.

How long have you been living here?
Since January 4th, 2007.

What is your current profession and who are you working for?
I'm a farmer and rancher. i.e I grow crops and raise beef cattle.
I also work for myself and the bank.

Tell us what it is like where you are living?
If you have an image of Central Siberia it is similar.
Extremely cold in the winter. 100 days frost free growing season.
Small community - 800 residents.
Couple of gas stations, pub, grocery store, school. All a person really needs.
Every one is related.
Family means a lot.
Farming and mining dominate the economy.

What have you done for fun/entertainment throughout Covid and the lockdown?
Life on the farm didn't change much. I never had a lock down.
But we camped as a family during the summer. Fished, swam, and water-skied.
Played golf.

Are there any particular challenges throughout this period that stand out for you?
My wife worked a lot. Covid was good for her antique business.
She also renovated the bathroom.
Kids were home from school.
I think the social side of the community suffered a bit.

Beer or wine?
Beer. But enjoy a good red.

Are you more of a hunter or gatherer?
Bit of both.
I hunt and grow a basic garden.

What inspires you?
Great athletes.
People who work hard and have achieved a lot in their lives.

What is the most useless talent you have?
I'm a good sheep shearer but there is no sheep here.

What is your favourite place in the world, and why?
Anakoha Bay in the Marlborough Sounds. It is where I grew up on the farm and learned the real fundamentals of life and hard work.

What is your funniest travel story?
There is lots, but watching a friend try and jump a skate park ramp on a moped in Hawaii. Didn't end well. But funny.

If there was one thing you could recommend to someone about to go on there OE, what would it be?
I'd say try something outside your comfort zone. I can't recommend anything in particular because everyone is different. Southern Thailand is pretty nice.

What is something that people don't know about you?
I hate people who complain about things that are not really important.
Trivial gossip annoys me.

Do you have plans on moving back to NZ?
Not until my daughter leaves high school. Then maybe.

What home comfort do you miss the most?
Mums cooking. She's a whiz in the kitchen.